The 10 candidates for 'The Best 2018' will be revealed tomorrow
FIFA are set to publish the 10 names who will battle it out for 'The Best' award which will be presented on the 24th September in London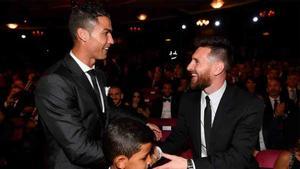 Everything is prepared for the 10 candidates for 'The Best 2018' to be revealed this Tuesday. The award, organised by FIFA following their breakaway from 'France Football' - who obviously have the Ballon d'Or - is a little different from previous years.
The voting period will start on the 24th July and the award will be presented at a show in London on the 24th September. Barcelona star Lionel Messi and new Juventus player Cristiano Ronaldo will no doubt be in attendance. It's worth remembering that 'The Best' has only been running for two years and on both ocassions it's the Portuguese man who has walked away with the prize.
This year, different to the previous two versions, FIFA will present a list of 10 players rather than the usual 23. These players will have been chosen by legends such as Ronaldo, Didier Drogba, Kaka, Fabio Capello and Frank Lampard. Mia Hamm, Sun Wen and Maia Jackman will help organise the shortlist for the women's 'The Best' award.
It'll be interesting to see what impact the World Cup, won by France, has on the shortlist of names.