Sergiño Dest has revealed what is was like meeting Messi for the first time
The American youngster is Barça's latest signing and he finally got to meet his idol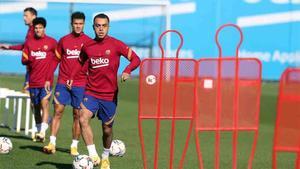 FC Barcelona's latest signing, Sergiño Dest, has told Dutch TV show 'NOS' what it was like meeting his new teammates - and in particular Lionel Messi.
Dest, who has been included in Ronald Koeman's squad for the match against Sevilla, said this about his first meeting with the Barça squad: "I saw everyone today. Messi too. He doesn't speak English but it was very special to meet him. If I'm honest, I don't know what he said to me but whilst we were both smiling, everything must be good, right?" he said whilst laughing.
Dest also revealed why he chose Barça over Bayern Munich this summer. "I chose Barcelona because I've always dreamed about playing for Barça. Ronaldinho is my idol and a legend at this club. When I heard about Barça's interest, I didn't need to think twice."