Santos give Barça preferential option on young stars Kaiky & Angelo
The Brazilian club have found a way around their debt with the Catalan club
A serious administrative error made by Santos in the sale of Gabigol to Inter Milan in 2016 has allowed Barcelona a buy option on two of the Brazilian club's biggest talents: the defender Kaiky Fernandes, 18, and the winger Angelo, 17.
Everything goes back to 2013. In one of the contracts signed in parallel to the Neymar transfer, Barça had, courtesy of a €7.9m payment, a preferential right on three more Santos players... and one of them was Gabigol, now playing for Flamengo.
In July 2016, then Barça sporting director Robert Fernandez travelled to Brazil to see Gabigol live for Santos (and also Gabriel Jesus). He didn't pass the test, but that didn't mean Santos didn't still have to advise Barça when they were going to sell him, something they did not do.
And in August 2016, Santos sold Gabigol to Inter for €30m. In a time of hostility between the two clubs, due to the controversial Neymar deal, Barça complied to FIFA that the Brazilian side had not fulfilled the terms of their agreement. And they demanded €3m, with the ruling going in the Catalan club's favour.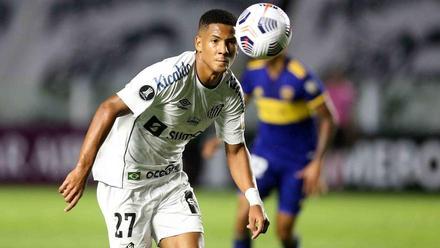 Santos, struggling with debt and unable to appeal, feared another punishment (a transfer ban) if they didn't pay Barça, so have sought another avenue via the club's efficient new president Andres Rueda. They have offered Barça a preferential option on two talented teenagers: Kaiky and Angelo. There's an agreement on both sides.
"Now we have resolved the issue with Barcelona, we're working on other outstanding issues and restoring the club's credibility," Reuda said.