Samuel Umtiti: I don't see myself at any club but Barca
The Frenchman wants to stay at Camp Nou but spoke to Lyon in the summer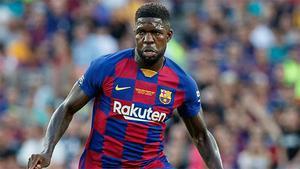 Samuel Umtiti has been on Barcelona's exit ramp for some time and is not needed by Ronald Koeman. His many injuries, fragile knee and shaky performances mean that it's hard for Barca to find another club for him to go to.
Lyon, his former side, spoke to him this summer, but his salary demands are too high and the French club broke off negotiations.
"I don't see myself at any club than Barca," said Umtiti in an interview with Canal Football. "I've been pretty clear about that with everyone."
"Lyon is my club, my city. They were the team that gave me the chance to play in Europe, at Barca and in the national team. There were conversations with Lyon this summer, but there was nothing in concrete."
Umtiti added: "The last two years have been the worst of my career. I've never worked so hard. I need to make up for lost time."