Samper: I like pressure and I'm ready for Las Palmas challenge
The midfielder has joined the Canary Island club on loan
Barça hope the midfielder will return a better player next year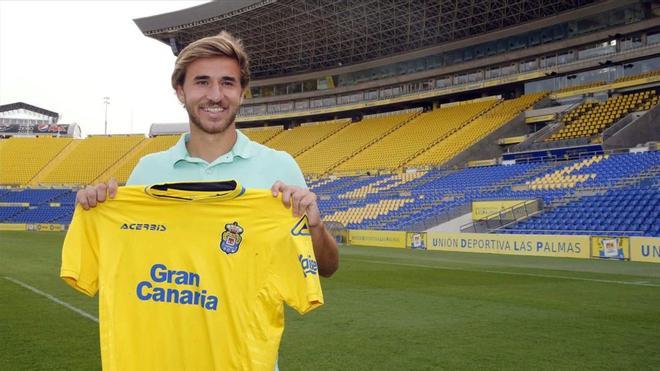 Sergi Samper arrived at Las Palmas on Friday and immediately presented after joining the Canary Island club on a season-long loan. Barcelona hope he will have a better season than last year at Granada.
"I want to say thanks for the reception," he said. "I am really happy to have this opportunity and I can't wait to begin training with the team. It's a challenge for me to be here.
"I like the pressure, I am ready. Of course Roque Mesa was a key player here. Each player has their own characteristics, though, and I will give my best to help the team."
Samper has always played in a 4-3-3 system at Barça but at Las Palms, in theory, he will be playing in a different system.
"Where I've played previously is as the lone pivote, but if I have to play as part of a two I can adapt to that," he added.
"Las Palmas have been doing things really well in recent years and I think the style will suit me. I have spent my whole life playing at BArça and they've taught me a certain way of playing, which is what is also practiced here."
Samper will be able to play in the two league games against Barcelona because the Catalan club do not include "Fear Clauses" which stop their loan players playing against them.