Ronald Araujo not giving up: We will fight for La Liga
The defender is doing well this season and establishing himself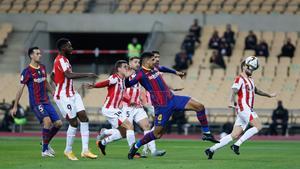 Ronald Araujo has become a vital player for Ronald Koeman. In his first season with the first team, the Uruguayan has taken a step forward and is an established presence at the back.
Gerard Pique's injury and Umtiti and Lenglet's form and other problems have opened the doors to the 21 year old, who has proved secure.
He got over some injury problems to make 15 appearances to date so far, 13 as a starter.
He has earned his place in the defence and spoke about the season on the club's website.
"I work to have chances and I'm happy of taking advantage of them, and that they (Koeman et al) give me confidence, I can play and help the team.
"A player who is playing is always happy. Things are going well but we have to keep working, I still have a lot to learn and must keep adding experience."
Araujo also spoke about the team in general. "I'm happy that we got through in the Copa against a hard rival because of the pitch we played on," said the defender.
"I have played there before and I knew it was hard. We could have killed the game earlier but the objective was to win.
He has not thrown in the towel in the league. "We will fight for La Liga," he added.
LATEST EPISODE OF THE BEST FC BARCELONA PODCAST IN ENGLISH