Revealed: A breakdown of the add-ons in 160 million Coutinho transfer
Despite the confidentiality agreement, the numbers have been leaked
Of the 160 million Liverpool could receive, 40 million is made up in add-ons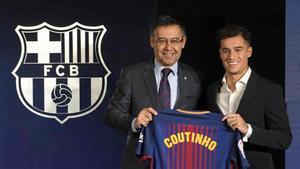 The figures behind the deal which saw Philippe Coutinho become Barcelona's record signing have been revealed. Despite the Catalan club and Liverpool keeping quiet over the exact numbers, due to the confidentiality of the agreement, the details have been leaked.
Remember that the total cost of the deal could rise to 160 million euros -- 120 million fixed and another 40 million in add-ons. Of those variables, 87.5 percent of them will be hit quickly. The only one which is difficult to achieve is winning the Champions League.
British newspaper The Guardian have revealed the breakdown of the add-ons. Figures which vice president Jordi Mestre did not want to speak about during Coutinho's presentation on Monday.
THE 40 MILLION IN ADD-ONS:
5 million euros for playing 25 games with Barcelona
20 million euros for reaching 100 games with Barcelona
10 million euros for the next two times Barça qualify for the Champions League
5 million euros if Barcelona win the Champions League with Coutinho