Real Madrid get involved in the battle for Georgino Wijnaldum
They will compete with Barca for the Liverpool midfielder in January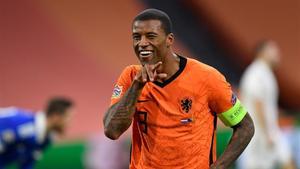 Real Madrid have got involved in the battle for Georginio Wijnaldum, the Liverpool centre midfielder, according to Italian newspaper Corriere Dello Sport.
The new Dutch captain has been linked to Barca, where he could play under former national team coach Ronald Koeman, but now Madrid are interested in signing him in January too.
Wijnaldum is one of Koeman's preferred players to reinforce the midfield zone, while Zinedine Zidane also wants more options there.
After failing to get him in the summer, Barca will go again in January, but Madrid are going to fight them for him.