Rafinha, an almost impossible departure from Barcelona
Barcelona would ask for over 30 million euros, too much for most clubs to pay
His recovery from injury is going well but he is not expected to be ready to play until mid-August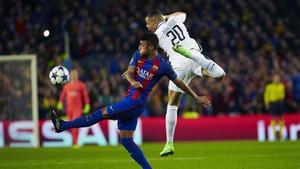 Rafinha Alcantara is a player who does not want a secondary role in the team. He accepted a loan to Celta Vigo before taking the jump to the first team and his priority is to play. Under Luis Enrqiue he had moments where he was important but with Ernesto Valverde his status is unknown and the club will listen to offers. However they will not sell at just any price and his exit seems practically impossible.
The 24-year-old has a lot of potential and has attracted various European clubs, with Arsenal and Liverpool in England, Juventus and Roma in Italy, interested. But they have not made contact.
Barcelona would only sell Rafinha for 30 million euros or more. They have had bad experiences with departures recently - letting Sandro go to Malaga for free - and do not want to repeat that.
The high prise might put off teams who are already wary of his knee injury, although that is healing well. He is not expected to be back for action until mid-August.
Rafa will start the preseason with Valverde's Barcelona and try to convince the new coach he can be a vital piece of the puzzle.