RAC1: Dani Alves has offered himself to Barcelona
The Brazilian international has already confirmed he's leaving PSG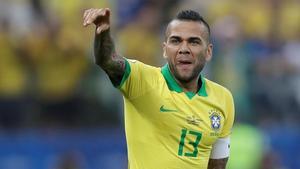 Brazilian right-back Dani Alves has offered himself to Barcelona, according to RAC1. Alves has confirmed that he's leaving Paris Saint-Germain after two years at the club and the report claims he's ready to return to Camp Nou after three years away -- the first at Juventus.
Alves, 36, is currently taking part in the Copa America with Brazil and on Sunday, through social media, he announced he was leaving PSG. "This stage of my career comes to a close. I have learned a lot and had many experiences. PSG gave me the chance to create a page of the club's history with them," he said.
The Brazilian has still not said what the future holds for him but he wants to keep playing at the top level and has, a few days ago, offered himself to Barça. According to journalist Gerard Romero, Barça are studying the situation and aren't ruling anything out.
Sergi Roberto and Nelson Semedo are the current right-backs at the club. The former is a converted midfielder and the latter has not yet made himself a regular under Ernesto Valverde since joining from Benfica in 2017.
Therefore, it's not a completely stable position at the club. The signing of Senegal's Moussa Wague is a bet for the future and, even though he's played for the B team mainly, he has made his first team debut and played several league games at the end of the season.
Alves played 391 games (21 goals, 103 assists) with Barça between 2008 and 2016.