Quique Setien comes out of it all feeling stronger
The coach will be in charge for the Champions League campaign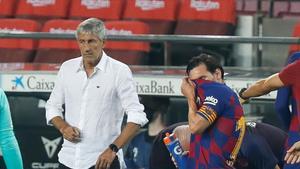 Barcelona left Mendizorroza reinforced but there's no doubt it was Quique Setien who was the big winner. He will be in charge of the Champions League campaign. There were doubts after Lionel Messi's criticism but he spoke to Bartomeu in a crisis meeting and was backed.
The coach can start thinking about the challenge ahead. In the meeting with Bartomeu, he was backed by Eric Abidal. They aren't completely satisfied with his performance but agree he hasn't had much time to work. Abidal said sacking him before the Champions League didn't make sense and there is no time to swallow other tactical concepts from a new coach.
Barca were worried by the image of the team and the idea the players didn't support Setien. The reality is that the coach has never convinced the players with his discourse, although they want to give Setien one last chance to win over the dressing room.
The Alaves game was better. The past is not forgotten but at least it was something to smile about. Bartomeu and the the technical team will meet in the coming days to discuss the situation, with no drastic measures planned. They will wait to see what happens against Napoli.
Setien believe the team can succeed in the Champions League but it's unlikely they will take on the new season with this coach.