Siempre Positivo podcast: Barça win Copa del Rey... set sights on European Super League!?
The new episode focuses on Barcelona beating Athletic to win Koeman's first trophy as coach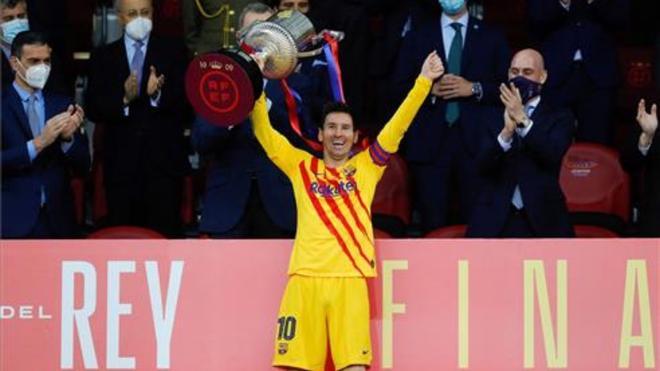 Sam Marsden, Rik Sharma and Toni Juanmartí are back for episode 27 of the exclusive FC Barcelona podcast Siempre Positivo.
They analyse Barcelona's 4-0 Copa del Rey win over Athletic Club on Saturday, the first trophy of the Ronald Koeman era and Barça's first since 2019. Lionel Messi and Frenkie de Jong were particularly impressive.
Elsewhere, Real Madrid slipped up in La Liga to complete a near-perfect weekend for the Blaugrana. The league title is now back in their own hands. Oh, and Barça are also one of 12 clubs who say they will be part of a new European Super League.
Running order:-- Copa champions -- Koeman validated?-- Messi 2015 vs. Messi 2021 -- Pique trolls Dembele -- Rik's ratings-- European Super League back on the table-- Less than a club? -- Jorge Messi in Barcelona -- Title back in Barça's hands as Madrid held
NEW FC BARCELONA PODCAST IN ENGLISH
Also available on Apple Podcasts, Spotify, Google and -- hopefully! -- on all your usual podcast platforms.
Siempre Positivo is an English-language podcast focused on the goings-on at Barcelona.
The podcast airs every Monday and features a review of the weekend's game, a look ahead to the week to come, occasional special guests and much, much more.
Marsden (Sport, ESPN) hosts the show and he is joined by Sharma (Sport, Goal, DPA) and Juanmartí (Sport, LaLiga TV Bar) to discuss everything that's happening at Camp Nou.