Gerard Pique: Preseason did not help Barcelona and we're noticing that
The defender spoke after the win against Villarreal at Camp Nou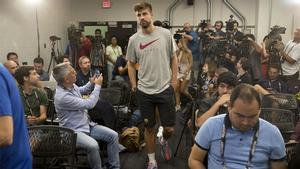 Barcelona defender Gerard Pique says the club's double preseason tour has not helped them at the beginning of the season.
The Spanish champions have already lost twice in La Liga and were held by Borussia Dortmund in their opening Champions League game.
They lost their first game of the campaign at Athletic Bilbao, less than a week after returning from the United States having also been to Japan in the summer.
"When things don't go well, the players are to blame," Pique told reporters after Tuesday's win over Villarreal. "There have been some factors, like preseason, with so much travelling, which didn't help and makes it hard to find your form. But we're obliged to win all the times. That's how it is and there are no excuses."
On the whistles aimed at out of form striker Luis Suarez, Pique said: "The supporters pay for their tickets and can voice their opinion and say if we're not doing well, but players are people, too. We can't be 100 percent in every game, we're not machines."
Barça, who lost at Granada last weekend, now have the chance to end their awful away form when they travel to Getafe in La Liga this weekend.
"We know our sins, but it's not easy to change things," he added. "We talk as a team and I think wee played well at the start today (against Villarreal). Winning in Getafe would help us a lot."