Philippe Coutinho's relationship with the Barcelona dressing room
The Brazilian's team-mates are surprised by his behaviour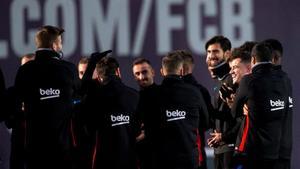 Philippe Coutinho is the most expensive player in the history of FC Barcelona. He cost 160 million euros. A number which could have affected his mentality coming in to his new dressing room. However Coutinho is made of something else, as far as we can tell from his first days with his new team-mates.
The references are good. Luis Suarez, who has been a close friend of his since they were neighbours in Woolton in the south of Liverpool, said: "He's a great lad," when asked about him. His new team-mates have also got a good impression of him and think that not only has he entered modestly but that his behaviour is due to his personality.
TALENT
The footballer would have found it easy to come in and taken refuge with Suarez and his compatriot Paulinho. However he has shown an openness and willingness to be affable with everybody, from the youngsters to the veterans. He is integrating easily and is showing none of the elitism he might do as a true crack.
When Neymar was in town the image of the trident was inseperable, but that is not being repeated with Coutinho. He is training like any other player and is not expecting special privileges.
LANGUAGE
His good Spanish is helping his integration. He learned while at Espanyol and then practiced it at Liverpool too. His good behaviour has added to his willingness to work. He arrived with a muscle injury that should have kept him out 20 days but he is back already. It was a good start and the feeling is that he will be a great signing. He will feature much more in the weeks to come. Coutinho has arrived to be a signing who can deliver immediately.