Philippe Coutinho unconvincing on his return to the wing
The Brazilian found no comfort out wide and was taken off at half time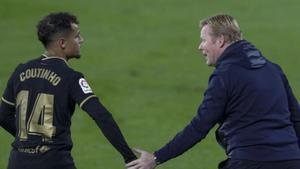 Philippe Coutinho was singled out by Ronald Koeman at half-time, along with Oscar Mingueza, and taken off. The coach wanted more action out wide and Coutinho was not giving it.
The Brazilian was unlucky in his 45 minutes. He didn't take risks one on one against the defenders so didn't unbalance the opponents in the way the team needed to break the solid defensive lines. He generated little, neither out wide nor coming inside, where he feels more free.
Coutinho is not comfortable on the wing. Ernesto Valverde tried him there and got burnt. Koeman has largely used him in attacking midfield but on this occasion, he was used wider and Barca suffered as a result.
When Coutinho has played in the centre this season, with the exception of the Sevilla draw, Barca have won.
Ousmane Dembele came on for him and did better, more lively and added width, but still could not make the difference in a 2-1 defeat.