Philippe Coutinho has turned into a €150m nightmare for Barça
Coutinho came off the bench for Bayern to rub further salt in Barça's wounds in the Champions League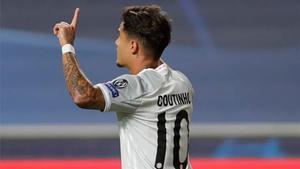 When it didn't feel like it could get any worse for Barça, they had to watch as a player they own - Philippe Coutinho - came off the bench to add an extra couple of goals to an already brutal scoreline. Coutinho was the most expensive transfer in Barça's history and he was shipped out to Bayern on loan because they couldn't find a place for him in the senior squad.
ADAPTATION
Coutinho joined Barcelona two and a half years ago and was hailed as the missing link for the dominant LaLiga champions. On the 6th January 2018, Liverpool accepted the €150m offer to let their star man leave for pastures news. Barça were scrambling since the previous summer when Neymar left to join PSG and they spent another €100m+ on Ousmane Dembele from Dortmund six months earlier.
The Brazilian wasn't available in the Champions League that year after already appearing for Liverpool in the group stages. Barça would need to be patient but that patience soon turned to desperation as Coutinho failed to ever get going in a Barça shirt. After a second, full season under Ernesto Valverde the decision was made to find him a new club to see if he could rediscover his best form elsewhere.
LIFE
And, such is life, Coutinho and Barça's paths crossed in the cruellest of fashions. Bayern were favourites going into the match but Coutinho, who hasn't convinced the German club to take up their option on his transfer, was on the bench. He was only called over to give another first team member a rest, the match was won with the scoreline at 2-5. Coutinho had 25 minutes to impress, nothing more.
Perhaps desperate to prove both Barça and Bayern wrong for not believing in him, he scored a brace with practically his first two touches in the match. The Brazilian didn't celebrate either strike against his parent club but deep down, there must have been some sense of satisfaction. Coutinho took his tally to 11 goals and 9 assists for Bayern but they won't make his move permanent this summer. After costing Barça €150m, Coutinho has turned into something of a nightmare for the club. And with a global pandemic likely to keep transfer fees down this summer, it's hard to see how Barça find a suitable solution to their Coutinho problem.