Official: Coronavirus forces Barça vs. Napoli behind closed doors
The Champions League game at Camp Nou will be played without supporters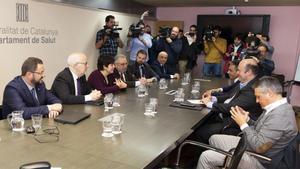 Barcelona's Champions League game against Napoli next week will be played without supporters due to the continued spread of Covid-19 across Europe.
The decision was reached for the second leg of the last 16 tie, scheduled for Camp Nou on March 18, to be played behind closed doors following a short meeting between the Catalan club and local government on Tuesday.
The government recommended that the game against the Italian side be cancelled the club heeded the advice.
"It's a decision that has been taken strictly for health reasons," said government official Joan Guix.
The meeting got underway at 9am local time and counted on the presence of Òscar Grau, Albert Soler and Ramon Canal in the representation of Barca.
Barça were looking to find a middle ground, such as allowing season ticket holders access to Camp Nou, in the end they accepted the measures put forward by local government.
The decision comes after the whole off Italy, the centre of of the coronavirus outbreak in Europe, went into lockdown on Tuesday.
Prime minister Giuseppe Conte announced new draconian measures on Monday which included the suspension of Serie A, Italy's top flight, until April 3.