No rest for Messi as Russia announce Argentina friendly in November
Messi will play in Moscow with his national team in the next international break
Russia will play Spain three days after facing Messi's Argentina side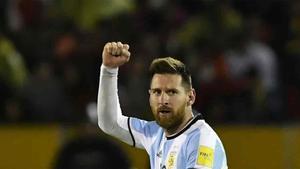 Lionel Messi, the star of the Argentine football team, does not stop. When it was expected that the Albiceleste's direct qualification for the World Cup in Russia next summer would mean a rest in the forward's packed calendar, a friendly has been confirmed in Moscow. Messi won't have to play in a playoff game against New Zealand, but he will have to play a friendly for Argentina.
The president of the Russian Football Union (UFR), Vitali Mutkó, has confirmed that Russia will play against Argentina at the re-opening of the new and improved Luzhniki stadium, which will host the World Cup final in 2018. The game is planned for Nov. 11. "Messi will take part in the match," Mutkó said in agreement with the AFA. Coutning on Messi for the reinauguration was Russia's big wish.
Messi will be the advanced party, given that three days later the Spanish national team will face Russia in another friendly. "They will be two good tests for our national team," Mutkó added of the two matches.