Messi makes 350th Camp Nou appearance vs. Getafe (364 goals so far!)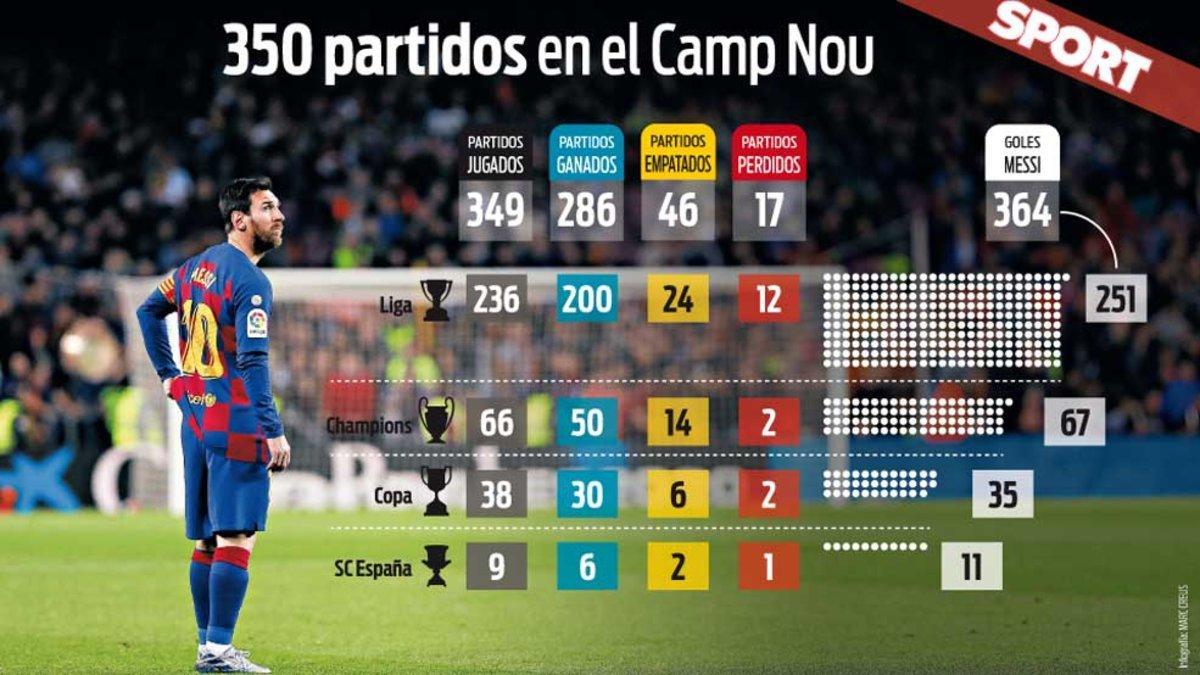 The Argentine made his first official appearance at the stadium in October of 2004
Against Getafe on Saturday, Barcelona captain Lionel Messi will make his 350th appearance in an official game at Camp Nou. Since his debut, he's played there 349 times, scoring 364 goals and setting up 128 more. Exceptional numbers which show the levels hit by the Argentine during his career.
Messi, who against Getafe will be playing his 714th game for Barça, made his first appearance at Camp Nou on Oct. 24 against Osasuna (3-0). It was his second game for the first team and he played for 18 minutes. His first start came on Sept. 27, 2005, in a Champions League game against Udinese (4-1). He played for 69 minutes. In La Liga, his first Camp Nou start arrived on Oct. 22, 2005, again against Osasuna (3-0). His first goal had arrived before, against Albacete (2-0) on May 1, 2005.
Since then, the Barça No.10 has been scoring and making goals for fun. The greatness of. Messi throughout these years has been his consistency, regardless of competition, coach or teammates.
The six-time Ballon d'Or winner has scored more goals than games in all competitions at Camp Nou except in the Copa del Rey. In La Liga, he's scored 251 times in 236 games (200 wins). In t he Champions League, it's 67 goals in 66 games and in the Spanish Super Cup it's 11 goals in nine games. In the Copa del Rey, it's the reverse: he's played more games (38) than goals scored (35). In the game against Getafe, he will pass 28,000 minutes in a Blaugrana shirt at Camp Nou.
UNBEATEN STREAK
UNBEATEN STREAK
Messi, meanwhile, could also equal his second-best run at Camp Nou without defeat. He's 32 games without a loss there since the win over Villarreal on Dec. 2, 2008. He went 33 games without defeat between Aug. 20, 2017 (Barca 2-0 Betis) and Oct. 20, 2018 (Barca 4-2 Sevilla). The rune ended against Betis on Nov. 11, 2018, when Barca lost 3-4, Messi's and Barça's last loss at Camo Nou.
His best run without a loss at home is 48 games, between Sept. 14, 2010 (Barça 5-1 Panathinaikos) and Apr. 10, 2012 (Barça 4-0 Getafe, 4-0). This time it was Madrid who ended the run, winning 1-2 at Camp Nou in April of 2012.