Messi defended Dembele to Mateu Lahoz: "He doesn't know how to speak..."
The Barcelona captain stood up for Dembele after he was sent off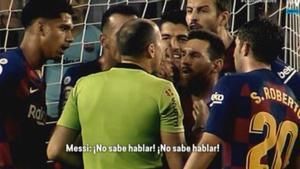 Lionel Messi fulfilled his role as captain against Sevilla when the referee, Mateu Lahoz, sent off Ousmane Dembele late on for a comment he made.
Lahoz didn't think twice when it came to dismissing Dembele, with his report later revealing he sent the Frenchman marching for telling him: "Very bad. You are very bad."
"He doesn't know how to speak (Spanish), he doesn't know how to speak..." Messi said in the face of Lahoz, trying to convince him that his teammate didn't know what he was saying. "He said 'very bad, very bad,'" the referee responded.
In the images from the game, you see Messi telling Mateu to his face that Dembele's comments weren't to criticise his decision, even though the official didn't buy it and the forward is now facing a minimum two-game ban.
That said, Barca have appealed the dismissal and the RFEF committee will meet on Wednesday. The Catalan's next game is against Eibar and then they host Real Madrid.