Mahrez wants to leave Leicester and is waiting on Barça
Barcelona have followed the player for the last two seasons
Mahrez already has interest from PL sides Arsenal & Chelsea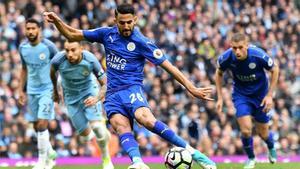 Riyad Mahrez's name has been on the table for Barcelona for a while. Last summer he was in the club's orbit, but Leicester City did not want to sell after winning the Premier League. Now, though, the player's asked to leave via an official transfer request. He's on the market and he's waiting for Barça.
contact
Mahrez has spoken with Barça through his agents. The club have asked for calm because, at the moment, the priority is to sign a right-back and a midfielder. Mahrez could follow, given Barça value his ability to beat a man and link in attack. He's a player who has been inconsistent this season, but with so much talent he could explod surrounded by better players.
The Leicester forward would love to play for Barça and is willing to wait
For the moment, Mahrez has advised that he has an offer from Arsenal. There's also interest from Chelsea, but his desire is to play in the Spanish league with Barça. Both is transfer fee and his wages are affordable, but for now there has not been any definitive movement.
Sources close to the player admit they're keeping their options open and don't deny reaching out to Barça despite there being no official offer. Barça also assure that they like the player, but it would all depend on the conditions of any deal and the other business they do.
Mahrez has an offer from Arsenal and there's interest from Chelsea as well
In England reports says Leicester would want 40 million euros, but Barça believe the price would be much less than that. If that is the case, and he is cheaper, he could be an option to this summer, although Gerard Deulofeu and Ousmane Dembele are likely to be preferred.