Luis Suarez tests positive again for coronavirus, won't face Barca
The Uruguayan is still in his country and cannot play Barca at the Wanda Metropolitano on Saturday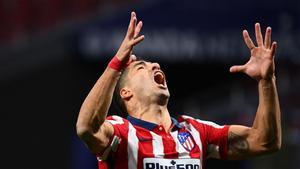 Luis Suarez has tested positive again for the coronavirus and will not be able to face Barcelona on Saturday at the Wanda Metropolitano.
The Uruguayan forward did not participate in the 2-0 defeat by Brazil after testing positive and he had a new test, which confirmed he has the virus.
Suarez will therefore not be allowed to play against his former side, whom he left this summer after they decided they didn't want him to stay.
He is still in Uruguay in quarantine because of his positive results. If he comes back to Spain it will have to be in a plane medically prepared to receive him as he is infected with the virus.
Suarez could also miss further games, including Lokomotiv Moscow in the Champions League.