Lopeteugi: We've witnessed the cruelest side of football vs. Barça
The Sevilla coach felt Barcelona should also have been reduced to 10 men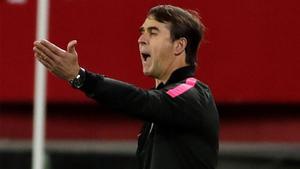 Sevilla missed out on the Copa del Rey final on Sunday as they gave up a two-goal first-leg lead against Barcelona, losing 3-0 at Camp Nou after extra-time.
Julen Lopetegui's side ended the game with 10 men after Fernando was sent off in the 92nd minute for two bookings, moments before Gerard Pique's late equaliser.
Lopetegui was disappointed Barça weren't reduced to 10 earlier, when Oscar Mingueza, already on a booking, fouled Ocampos to give away a penalty, which Marc ter Stegen saved.
"We've witnessed the cruelest side of football in tonight's game," Loeptegui said. "We end up a man down and they also should have had a player sent off. It's a shame. A lot went against us, players injured, conceding with the first shot on target....
"We had chances to get through but it wasn't to be and we're disappointed. I can't say much more. If you speak too much you know what happens to you.
"I don't think the Mingueza (no second booking) was right, it denied a clear goal-scoring chance. But it wasn't seen that way..."
Sevilla midfielder Joan Jordan added: "We had the tie there with the penalty. If we score that, there's no f***ing way they put three more past us. Then they get the second goal, prior to that Fernando's sent off.
"I respect the referee but he doesn't show Mingueza a second yellow card... The other day, Leo (Messi) didn't get the second booking. And today Fernando does. But we're a club, I've learned that we don't give up."
NEW FC BARCELONA PODCAST IN ENGLISH