Liverpool's Coutinho says 'yes' to Barcelona
The Brazilian knows he would arrive as an important first team player
Coutinho's already rejected an offer from PSG which was more than Barça's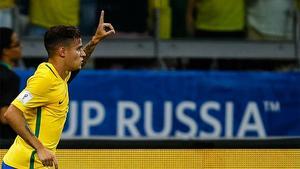 Philippe Coutinho is the crack that Barça want to sign. The club are convinced by his quality and the Brazilian has given the OK to the Catalan club to make contact, which could be key to the operation going through. Coutinho wants the dress in Blaugrana and his people are convinced that Liverpool must negotiate his exit this summer. The numbers on the table are high, but the player is ready to help by putting pressure on to leave England. The operation is well designed and it's hoped it will have a happy ending.
STEPS TO FOLLOW
Barça began the operation sounding out Coutinho's people. They wanted to know his predisposition before beginning to negotiate. Since the first moment it's been evident that the Blaugrana will have to make a huge effort, as will the player, whose price tag is sky high. Both parts looked at the situation and Coutinho has given the OK, convinced that he will win trophies with Barça. In these preliminary conversations, Barça explained their sporting project and their arguments for wanting him. It was made clear he would be a starter, given his versatility.
COMMITTED UNTIL THE END
The Brazilian has shown his committment to Liverpool by recovering as quickly as possible from an injury to re-join the fight for a Champions League place. The Brazilian is one of the leaders of the team and doesn't lack commitment. Another positive for Barcelona is that the player has already made it clear to his club that he will not leave for PSG, despite the money available from the French club. He wants to win important trophies and for now is not thinking of a move to Paris. All parts feel the talks could become a soap opera, but Barça are prepared for that if the player maintains his determination. It would be a strategic signing.