Lewandowski takes call related to "FC Barcelona" in Bayern dressing room
The Bayern Munich striker has told the club he won't renew and would like a new challenge
With Robert Lewandowski's future in the air, there is a constant stream of news about the Bayern Munich striker's possible next move.
Per Bild on Wednesday, Lewandowski took a call in the Bayern dressing room recently with his teammates able to listen in as he spoke in his native Polish.
Per the report, he did not stop saying the words "FC Barcelona" during the conversation as he is strongly linked with a move to Camp Nou.
"Lewandowski says over and over again FC Barcelona," said one source who witnessed the call.
Bayern continue to say they will not sell Lewandowski despite his contract expiring in 2023 and the fact he's told the club he will not renew.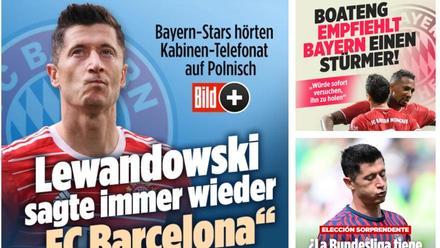 Amid this tension, "Bayern's stars got a preview of how things could go in the coming months" if Bayern decide to force Lewandowski to fulfill his contract.
The call took place during "the week before the last game of the season against Wolfsburg (2-2)", at the end of which the forward greeted the Munich fans in tears, in a scene that was interpreted as his possible goodbye.
"Robert Lewandowski shouted loudly in the locker room. The striker spoke Polish, but every footballer understood one word even without knowledge of the language."
That word was none other than "FC Barcelona" which he said "over and over again."