Leo Messi, ready for game 750 on his legends trail
The Argentina star and Barca's captain is closing in on Xavi's club record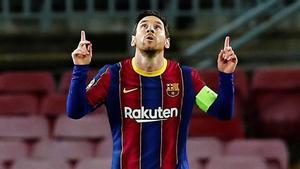 Lionel Messi keeps making history and tonight at El Alcoraz when he faces Huesca, he will play his 750th game for Barca and 500th in La Liga.
The Argentine star is closing in on Xavi's 767 games for the club (505 in La Liga), between 1998-99 and 2014-15.
The Barcelona captain, who Ronald Koeman says is happy and ready, has six games more to play to overtake Xavi's league record, and 18 to become the Barca player with the most appearances in all of history. He has 644 goals and is the top scorer of all time for the club already, and likely always will be.
Messi has the most wins (368), most goals (451), most starts (444) and most titles (10) of any Barca player in La Liga. He debuted in 2004 at 17 years old. Now he is 33.
Messi has played his 499 league games at Camp Nou (252) and away from home (247). He has 211-157 wins respectively and his 451 goals are broken up 265-186. He's played Atletico Madrid most (29 times, 18 wis, 26 goals), followed by Real Madrid, Sevilla and Valencia (28). In total he's played 40 teams and Sevilla are the team he's scored most against (29).
Messi scored more goals than games played for Pep Guardiola (136 games, 138 goals), and Tito Vilanova (32-46). With Valverde he came close (84-83). Tata Martino was (31-28). With Ronald Koeman he has 14 games and 7 goals.
The player with the most games played in La Liga is Andoni Zubizarreta with 622. Followed by him is Joaquin, 565, Raul, 550, Eusebio, 543, Buyo (542), Sanchis (523), Casillas (510), Sergio Ramos (506), Xavi (505) and Miguel Soler (504).
LATEST EPISODE OF THE BEST FC BARCELONA PODCAST IN ENGLISH