Leo Messi: I'm tired of always being the problem
The Argentna player landed in Barcelona on Wednesday afternoon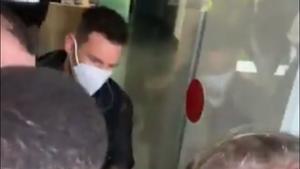 Leo Messi returned on Wednesday evening to Barcelona from Lima, where he played and won with Argentina last night, and when he got there has welcomed by tax inspectors on the aeroplane.
The player, who was tired from a long trip, was also met by various fans and media at the door of the airport. He stopped to sign some shirts and balls. He was with Barca employee Pepe Costa, who tried to make a pathway through those there.
Messi was asked various questions and he cracked, replying: "I'm tired of always being the problem." The questions were about various controversies that came up while he was with his national team, including comments from Antoine Griezmann's former agent.
He also added, on the tax agents: "I arrive and there they are some tax agents, asking questions, it's madness."
He got in a vehicle and was driven off, back to his home in Casteldefels to rest.