Leo Messi has been a nightmare for Rayo Vallecano over the years
The Argentine forward is not whom the second division minnows want to see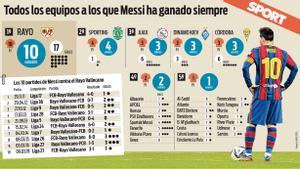 Lionel Messi is back from suspension and ion the squad against Rayo Vallecano in the Copa del Rey last 16. He has faced them 10 times, earning 10 wins and scoring 17 goals. The Argentine has 1.7 goals per game against Rayo.
Rayo Vallecano, in the second division, is one of the 28 teams that Messi has faced against and always triumphed.
Next is Sporting Lisbon (four games, four wins), Ajax, Dinamo and Cordoba (three games, three wins).
Messi's 10 games against Rayo have always been in La Liga. In these matches the Barca forward has always scored with the execution of one game, the 4-0 win there in 2013-14.
In the other nine he has four times struck a double and twice a hat-trick.
Home and away makes little difference. Messi has scored nine games at Camp Nou in five matches, and eight at Vallecas, where Wednesday's game is.
LATEST EPISODE OF THE BEST FC BARCELONA PODCAST IN ENGLISH