Lenglet: I'm happy... I don't have to play against Messi now
"Messi is the best in the world -- he dominates games easily"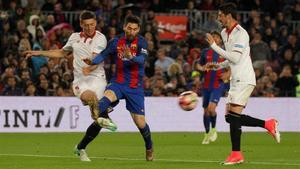 Clément Lenglet spoke to Barça TV about his satisfaction of signing a five-year dear for the Catalan club earlier this month.
The French defender knows what it is like to face Barcelona and joked about how happy he is that he no longer has to play against them.
"I am really happy to be here, because I don't have to play against them now," he said. "[Lionel] Messi is the best in the world. He dominates games easily and can score at any moment from wherever he wants.
"If you have some luck, you can stop him a little bit, but then someone else catches you out."
In this sense, Lenglet hopes to fit in quickly at Camp Nou: "When you play with good players, the adaption is a little bit easier and here every player is at the top level.
"Barça's philosophy is to bring the ball out from the back and it's the only club in the world that plays this way. Everyone has told me how incredible the city is, too, and that when you sign for Barça you never want to leave."