Lazio make contact with Barcelona's Ivan Rakitic
The Italian club are interested in if the Croatian wants to come to Serie A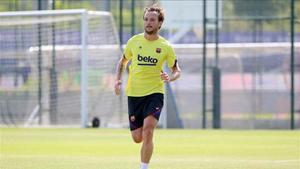 In the European transfer market there are no doubts that Ivan Rakitic is on his way out of Barcelona and there are many clubs that are waiting on his situation. Per Il tiempo, Lazio have got in touch with his people to make him a big offer for the next three seasons. Lazio could reach the Champions League and they want quality players ahead of a potentially exciting season.
Rakitic has received numerous offers but doesn't want to leave Spain. He would like to complete his contract at Barca, which runs one more year, but with Pjanic potentially arriving he may not have a spot at all.
Barca want 20 million euros for the Croatian but are willing to listen to other offers. Rakitic would love to go back to Sevilla but that may be too difficult.
Lazio know Milinkovic-Savic might leave so Rakitic would be a good replacement. They will have money to invest and believe it's a good opportunity.