Laporta and Koeman: confident that Messi will stay at Barça
The club's president and head coach sent a message of calm to the club's fans regarding his contract renewal
"Everything's on track". This was the phrase repeated over and over by Joan Laporta when asked by journalists about the status of Leo Messi's contract renewal. The Barça president has already got Messi to commit his future to Barça, who is keen to prolong his love story with the only professional club he has ever played for. However, Laporta is now faced with the challenging task of reducing the squad's wage bill by at least half in order to register Messi for next season's competition. The president appeared calm before the official dinner to mark the inauguration of this year's Koeman Cup: a charity golf tournament sponsored by the Dutch coach, which will take place today at the Barcelona Golf Club in Sant Esteve Sesrovires.
The words of Javier Tebas, LaLiga president, about the difficulties that Barça will face in renewing Messi's contract do not seem to have worried Laporta, who continued to relay the same message as he did earlier in the week. This suggests that there are no new developments to talk of, neither good nor bad. Only a few loose ends need to be tied up in the agreement between Barça and Messi, but these do not depend on the Argentina captain. Leo is focusing on the upcoming Copa América final, and is not currently stressing about Barcelona's delicate financial situation. These negotiations take place step by step. In such complicated cases, patience is key. Barça officials, however, seem confident that an agreement will be reached. The club remains calm.
Reencuentro 'Jan'-Koeman
Laporta, who arrived at the Barcelona Golf Club alongside vice-president Rafa Yuste, gave the Barça coach a warm embrace in their first public appearance together since the president expressed his doubts over whether Koeman would continue at the helm. Finally, after warning the coach that defeats and bad streaks of form would have their consequences, the president decided to keep Koeman as head coach for the upcoming season. Yesterday, in typical Laporta style, the president was seen to be very close to Koeman, who welcomed him upon his arrival to the club. They could be seen chatting with great conviviality, constantly smiling at one another.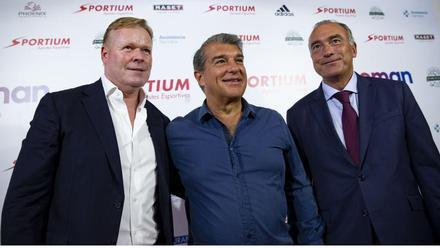 The episode from early June, in which Laporta expressed his doubts over Koeman's position as head coach, is now behind them. The Barça head coach was also bombarded with questions from journalists. "Tomorrow", he constantly repeated, reminding members of the press that he would be available for questions before the charity tournament begins. He was unable, however, to swerve the Messi question. "I'm very calm", he said with assuredness.
The last person to arrive at the dinner was Mateu Alemany, who was constantly checking his phone and answering calls. Riqui Puig, meanwhile, represented the first team squad at the event. Centre midfielder Puig, who is a big golf fan, had a great opportunity to strengthen his relationship with Koeman at the dinner. He didn't play a prominent role in Koeman's first season in charge of the team, but he will be looking to convince him of his ability during the upcoming pre-season.