LaLiga president says 'no' to Barça's request for wage cap flexibility
The LaLiga president refused to allow Barça to circumvent wage cap restrictions
The club's officials left the meeting feeling disappointed
Javier Tebas held a meeting with Joan Laporta and Mateo Alemany last week with a view to hearing Barça's proposal for solving the problem brought about by the club's wage cap restrictions which are currently preventing them from extending Leo Messi's contract. The Laliga president listened to an explanation of the club's problem with regards to the squad's current high wage bill, which is not in line with the club's current income, affected last season by Covid-19.
Barça find themselves in a tricky situation, as the contracts of many players will need to be terminated in order to make room for the Argentina star. Trincao set off for the Premier League yesterday while Junior Firpo's move will be officially announced later today. Matheus Fernandes' contract was terminated and Samuel Umtiti is on his way. But the situation of many more players remain unresolved.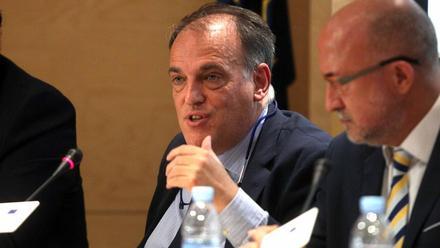 Javier Tebas was sympathetic during the meeting with Barcelona officials but stressed that he can't do anything to help the club get around the rules. Instead, he made it clear that they need to abide by the same rules as all other Laliga clubs.
Last Thursday's meeting, as revealed by SPORT, left the club's officials feeling disappointed at Tebas' lack of understanding. Barça are relying on Alejandro Echevarría as an intermediary between the two parties, due to his good relationship with the Laliga president, but a solution that satisfies both sides is yet to be reached.