"If there's one person that can choose their future, it's Leo"
The Dutch coach didn't want to be drawn too much on Messi's future at Barcelona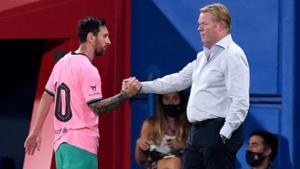 Ronald Koeman remains clear that talking about Lionel Messi's future at the club in public will not help convince him to stay.
The Dutch coach says the work must be done internally to get Messi to remain at Camp Nou, and suggested acting president Carles Tusquets' comments that the forward should have been let go in the summer was for from helpful.
"We know Leo's situation," Koeman said on Friday. "But if there's someone that is allowed to decide their own future, it's Leo."
Koeman was asked repeatedly about the comments made by Tusquets in the week, comments which did not sit well inside the Catalan club.
Tusquets's opinion
"The comments inside the club don't help keep the peace of mind that we need to win matches," Koeman added. "We can't control what others say. Inside it's different.
"It may well be [Tusquets'] personal opinion and I respect all opinions but Leo has another year at Barca. He will decide himself where his future will be. Hopefully, it will be here but he decides."
NEW FC BARCELONA PODCAST IN ENGLISH