Koeman has already spoken to Jordi Alba about his Barça future
The new Barça manager told Alba he considers him an important player for the team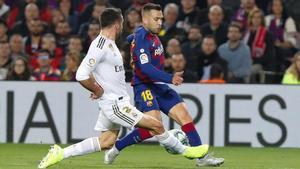 Ronald Koeman has started to reach out to some of FC Barcelona's senior stars. Logically, the first person he met with was Lionel Messi. Another person Koeman has spoken to already is Jordi Alba, despite the left-back not featuring on Josep Maria Bartomeu's 'untouchable' list. The new manager had a chat with Alba on the telephone to let him that he's still an important player for this team. It remains to be seen what movements - both in and out of the club - happen over the next coming weeks.
Koeman, however, has made his own views perfectly clear to Alba. The left-back signed a new contract last year and that doesn't expire until 2024. As a homegrown Barça supporter, he only wants to play for the club of his dreams. Koeman has said previously he doesn't look at someone's age but rather their desire to give everything.
Koeman first noticed Alba at Valencia
Koeman's glowing opinion of Alba isn't new either. The pair first met when Alba was in the Juvenil side at Valencia and Koeman was in Mestalla dugout. In fact, Alba was even named in a matchday squad in 2007 was didn't make the final cut. The left-back wasn't even 18 years old at the time.