Key week as Barcelona hope to land Liverpool's Coutinho
The Blaugrana will hold a meeting with the English club this week
Coutinho wants to move but may be forced to hand in a transfer request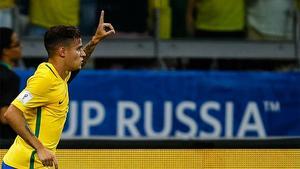 Philippe Coutinho is currently Barça's priority. The club have taken every step possible to sign him, but he will not be an express signing. The idea is to wait for the player's pressure to take effect so they don't have to pay an unnecessarily high price. Therefore, they will present their final offer to Liverpool this week. It will be high, but it will not reach 100 million euros. The idea is to get close to that number and to include variables. And they hope it will be enough.
They don't want to rush. Barça are certain that clubs are waiting for them on the market. And any move to sign a player sees millions of euros automatically added. The Neymar sale is recent and is complicating talks to bring new players in. The Coutinho case is no excpetion and Liverpool have spent the last few days demanding more than 100 million euros. The English club, though, are ready to open negotiations over the fee for the Brazilian.
MEETING IN ENGLAND
Barça have forced a meeting with Liverpool to try to close the matter, even though they know it will be difficult. It's planned for a couple of times and is supported by the player. Coutinho has rejected an offer from PSG and told Liverpool he wants to leave. It wouldn't be strange for Liverpool to ask for an official 'transfer request', though. That would allow the supporters to know of their reluctnce to sell. For now, Coutinho is not ready to take that step, but things may change after this week's meeting.
The Catalan club believe Coutinho would be a huge signing because he can play in various positions. They see him more in midfield, but he can also play further forward. In England he's improved physically and is perfectly formed to play as an interior, although he would play further forward to begin with at Camp Nou.
Barça want time. It's not going to be easy, but the player's desire to move and the club's determination to sign him should make it possible. There's no timeframe laid out, although they hope the offensive this week will bring results. Let's see if it's soon made official...