Joan Laporta suffered a mugging in the centre of Barcelona
The former president of Barca was assaulted on Passeig de Gracia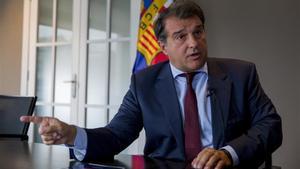 Former Barcelona president Joan Laporta was involved in an unfortunate incident in August. The lawyer was walking down Passeig de Gracia in Barcelona, one of the main shopping roads in the city, when two individuals assaulted him.
Laporta resisted the attackers and scrapped with them in a struggle which ended when one of them decided to run away.
The ex chief managed to knock a motorcycle helmet off of one of them, but later noticed that they had taken a 70,000 euro watch off his wrist.
Laporta decided to denounce the assault and headed to the Mosses d'Esquadra station in Les Corts, where he explained the facts and brought the helmet that he managed to take off one of his attackers.
The case is in the hands of the Catalan police scientists, who are running tests on the helmet to see if they can identify the attackers. The investigation is open.