Joan Laporta interview: The football world wants us back
The presidential hopeful spoke with SPORT two days before the election
He was the president of Barcelona between 2003 and 2010 and that's his biggest weapon going into Sunday's elections. Joan Laporta visited SPORT to talk about the key points of his program to try and seduce undecided club members into voting for him.
They say you're the favourite...
I'm not thinking about that. I am focused on explaining our program to the club's members. We have a winning moral because we want to win and that's what we're working on. I have a great team and I feel strong.
You talk about your experience, but Barça and the football world has changed a lot.
I am in contact with all the agents involved in football and I've met with people that run projects like the Super League. I am in permanent contact with players' agents, many of them come to me. And I notice that they want us back in the game because we left a mark on the football world. I was fortunate to be Barça president for the best era in the club's history. It's quite recent, too, and everyone remembers. We were respected and we had weight in the football world. We had a defined style for running the club. In the world of football, there's a desire for us to return. In addition to the trophies, we left a legacy and a style. We were a club much-loved because we had a sporting and a social commitment.
Can Barça sign the best players or is it impossible?
It's not impossible. All clubs are having difficuluties. Those with the best chances are the State-backed clubs, although they are also affected. Experience is important in the world of football. Barça can improve the squad, I am convinced of that.
What will Mateu Alemany's role be?
I have a great relationship with Mateu. He's a football executive with great knowledge of the game who works hard. But I don't have a commitment to anyone. We will see. I want to talk with the current execs to hear their planes, out of respect, even though we will make some changes.
Xavi and Jordi Cruyff: with you or Victor Font?
I have a good friendship with both of them and have done for a while. But you'd have to ask them -- and those that say they have them on board. I have seen a lot of hastiness due to inexperience. I have followed everything that's happened and there are things that don't make sense... I have a lot of respect for them both. They want to come back to the club. I don't know if it's the moment, but if they want to come back, they will.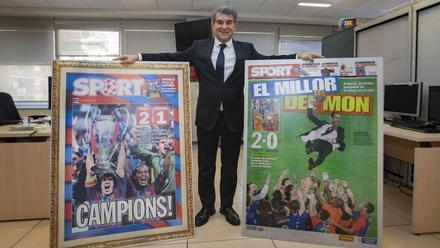 Is there any chance of a Pep Guardiola return if you're president?
We have a coach with a contract and Pep has a deal with City until 2023. You would have to ask him if he wants to come back. Medium to long-term, maybe... short-term he has a contract with City.
How do you convince Messi to stay?
I have a good relationship with Leo. I earned his trust. He's always said to me: 'Everything you promised, you lived up to.' He knows we will fulfill what we offer. We have to give him affection, he has to know that we want him. I will do everything possible for him to end his sporting career at the very top. And the same for this generation of players: Busquets, Pique, Alba etc. They have to leave through the front door, like Iniesta, Puyol and Xavi.
When did Messi stop feeling wanted?
When they lied to him. I have the feeling they deceived him, they wanted to make him responsible for decisions that weren't his, but you would have to ask him about that. Messi's not guided by money and will listen to our proposal. We aren't going to compete with State-backed clubs. The financial offer we make will be within our limits.
Will you ask the players to take more pay cuts?
Some have already accepted deferrals. In 20034, I have to have an important meeting with the captains to explain the situation. I hope that's not the case this time. I want to work on the line of bringing in new revenue and optimising what we already have. We will work on sponsors, that's where I will ask for help from the players. The club have 29 categories of sponsors. Juventus, for example, have 40. We could have 35 at least.
NEW FC BARCELONA PODCAST IN ENGLISH