In Holland they say De Ligt transfer to Barcelona is a done deal
The head of sports in De Telegraaf say that the teams made an agreement at the ECA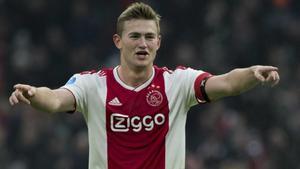 In an interview with Tuttosport on Saturday Matthijs de Ligt left his future open, but the Dutch media say that it is almost certainly going to be at Camp Nou.
The head of sports at De Telegraaf, Valentijn Driessen, says "It's clear that De Ligt will leave Ajax for Barca," retaining no doubts over the defender's future.
Driessen confirmed what SPORT said, that at the start of the week the clubs came close to an agreement at the ECA meeting, even though Marc Overmars was not there. "Ajax left it clear to Barcelona that they don't have to pay extra for Matthijs, unlike for other clubs," he said.
Ajax will respect the decision of the player and his agent Mino Raiola, which is to follow the footsteps of his friend and team-mate Frenkie de Jong to Barca.