Huge bust-up between Leonardo and Neymar pushes player closer to Barça
PSG's director of football launched an attack on the striker in front of his teammates and insisted he should apologise to them for turning up late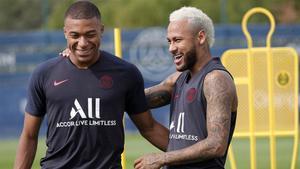 The relationship between Neymar and Leonardo is at the point of no return.
According to SPORT's sources, Leonardo had a major bust-up with the Brazilian star in front of the PSG squad last Monday. Neymar returned later than scheduled and, in the dressing room, Leonardo felt he needed to make an example out of the wantaway forward.
Leonardo didn't hold back and left Neymar in no doubt how things would work from here on out. It was along the same lines that the president, Al-Khelaifi, used in his interview with 'France Football'. The club would no longer be treated with disrespect by anyone. Neymar was verbally punished by Leonardo in front of his teammates.
NO WAY BACK?
Leonardo wants it to be known that from now on, everyone will be treated equally and there would be no special treatment or conditions for the star players.
Neymar is also set to be hit with the highest possible fine by PSG for returning to preseason late.
Leonardo reminded the team that whilst they were back in training, Neymar decided to take an extra week holiday despite not featuring in the Copa America due to injury.
invitación
Leonardo told the players to resolve their own issues with Neymar amongst themselves.
The message from PSG is that this is a fresh start for everyone and, if you aren't committed to the project, you know where the door is.
When Neymar was on the receiving end of this barrage, it's important to remember that a lot of his close friends and influential members of the dressing room weren't there. Thiago Silva and Marquinhos are still on holiday, as are Edinson Cavani and Angel di Maria.
Neymar has already told Leonardo, in private, that he would like a move back to FC Barcelona.