Grifols denies negotiations with FC Barcelona over sponsor for stadium
The pharmaceutical company denied they were going to sponsor the new Camp Nou
Reports said they would pay 400 million euros for the next 30 years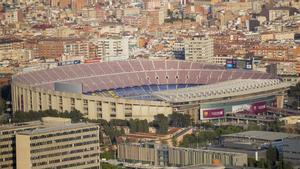 Multinational pharmaceutical company Grifols denied Thursday that they were close to reaching a deal with Barcelona to sponsor the new Camp Nou for 30 years.
In a press release the company, with a headquarters in Sant Cugat del Valles, said: "Regarding to the news published about negotiations between Grifols and Barcelona to associate with the name of the Camp Nou, the company is not contemplating any sponsorship of this type."
Reports on Catalunya Radio and Esport3 had said they were thinking about a deal for 400m euros for the next 30 years.
Barcelona are spending 600m euros on the Espai Barca project. They want a third of that cash through the stadium name. The rest of the money they would get through ordinary takings (200m euros) and a loan (200m euros).