Griezmann's former advisor backtracks on Messi 'regime of terror' claim
Eric Olhats says he's not spoken to Griezmann about Barça star Messi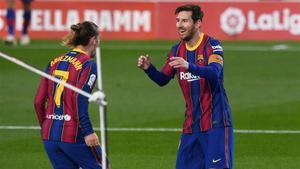 The comments made by Antoine Griezmann's former advisor, Eric Olhats, in France Football this month had repercussions across Barcelona.
Olhats accused Messi of running a "regime of terror" at Barça, which led to the Argentina forward saying on Wednesday that he is "tired of always being the problem at this club."
Ronald Koeman said people, including Olhats and the media for drumming up the controversy, were showing a lack of respect towards Messi.
Griezmann, meanwhile, has always maintained that his relationship with Messi is good and sources close to the French forward say he's not spoken to Olhats in years.
Olhats backed that up on Saturday in an open letter in Marca in which he backtracked on his comments and confirmed he has never spoken to Griezmann about Messi.
"I want to make it very clear that Antoine Griezmann NEVER informed me about this subject," he wrote. "The comments that I made in France Football were based on a situation that was put forward by various media outlets during last season.
"I understand that my comments are subjective and that I could even be mistaken. For that, I am the only one responsible.
"With this letter, I hope to put an end to this subject. I also want to make clear that I don't agree with the comments made by the player's uncle about the supposed differences between Griezmann and Messi.
"For a while, specifically since three years ago, I haven't maintained a relationship with Antoine, nor do I form part of his family's inner circle, despite what some have said in the media."