Griezmann: The celebration was a request from my daughter
The France forward was in good form in the win against Osasuna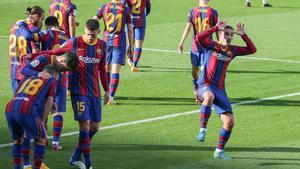 Antoine Griezmann found his best form as Barcelona beat Osasuna 4-0 on Sunday. He showed why Barça paid more than 100 million euros for him by scoring one and creating another for Philippe Coutinho. In short, this was the Griezmann all supporters of the Catalan club want to see.
Griezmann ended the game happy, joking with Coutinho in front of Movistar's cameras. It's the first time he's scored in back-to-back games for the club -- he also scored in the midweek win over Dynamo Kiev. In total, he has now scored four goals in his last six appearances following just one in 19 games before that.
"It was an important win because those at the top keep winning and we have to be close to them," Griezmann said. "We know the season is long and we want to be champions. Seeing how we played in the Champions League and again today, there are reasons to believe we can reach that objective."
Griezmann celebrated his goal with a new celebration, putting his hands on his head and doing a dance from the game Fortnite. He explained it was his daughter's idea.
"This morning, I was having breakfast with my daughter and I asked her how she would like me to celebrate a goal," he added. "She told me to do this and that's how it came about!"
On his goal, a stunning volley from 20 yards, he said: "It's one of those that either flies in or goes into the stands... luckily today it's gone in."