Gerard Pique's reaction to the huge wall of jeers at the Wanda Metropolitano
He was blasted by Atletico Madrid fans on Saturday night
Pique has come in for the most grief so far of anybody at the Wanda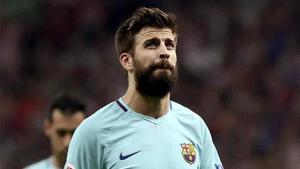 Gerard Pique was whistled once again on a football pitch. The FC Barcelona centre-back was hammered by Atletico Madrid fans on Saturday after his recent comments about Catalonia and the Spanish state.
Pique was blasted during the warm up at the Wanda Metropolitano and during the opening minutes of the game when he touched the ball. The jeering did dilute, slightly, as the game became more exciting and the ball became more important than anything else.
During the warm-up, though, Pique was forced to cover his ears because the whistling at him was so loud as he left the pitch. It reminded of the reception given to Luis Figo at Camp Nou all those years ago and was the loudest whistling in the Wanda's short history.