Gerard Pique, fed up of Luis Suarez: "That's enough now 'fatty'"
The defender was tired of the forward's play acting during Saturday's draw with Atletico
Luis Suarez took centre stage as he returned to Barcelona this weekend in Atletico Madrid colours. An empty Camp Nou couldn't give the striker the reception he deserved after years of service to the club.
But once Suarez stepped on to the pitch and the referee whistled for the game to start, sentiment went out of the window.
For Suarez, that meant going about his usual business and looking for goals, trying to lose the centre-backs and playing rough when he could.
One of those moments led to a heated chat with Barça goalkeeper Marc ter Stegen after he just got to the ball before the Uruguayan to punch it behind with his gloves.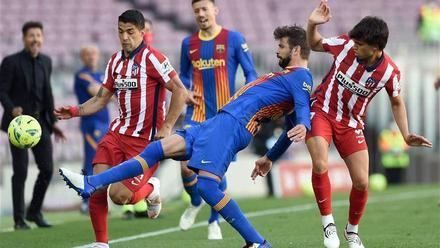 'Gordo' -- Suarez's 'affectionate' nickname at Barça
In the replay, you can clearly see that the goalkeeper got to the ball first and did not touch the head of Suarez, who feigned injury afterwards.
Ter Stegen goes directly to Suarez to recriminate him for his actions and then Pique says: "That's enough, eh, fatty [gordo], f--- me."
When Suarez played for Barcelona, he was affectionately referred to as 'gordo' in reference to the stories in the media that suggested he was overweight.