SPORT EXCLUSIVE
Exclusive with Ilaix Moriba's dad on Barcelona star's contract renewal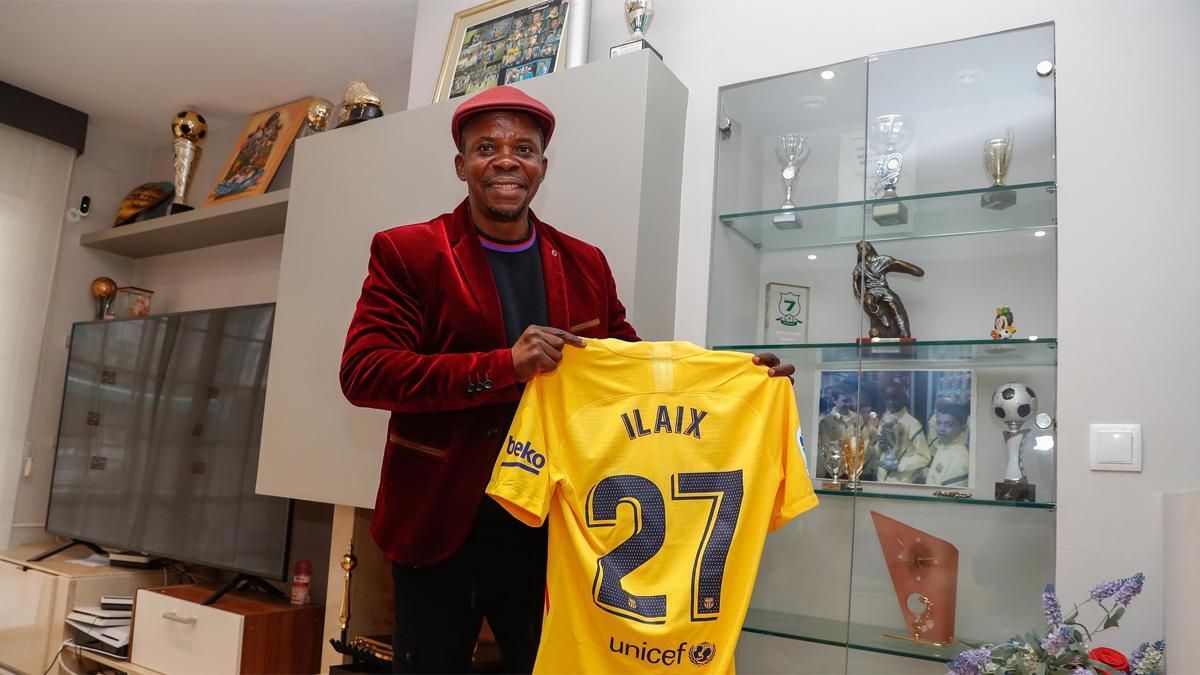 The teenage midfielder's father spoke to SPORT this weekend
SPORT have spoken exclusively to Ilaix Moriba's dad, Mamady, in Santa Coloma de Gramanet (after receiving negative PCR tests) following his son's explosion at Barcelona in recent weeks.
Smiling and elegant, he spoke about Ilaix's development under Ronald Koeman and pending contract renewal, with his current terms up in 2022.
We handed him a special copy of SPORT with Ilaix on the cover following his first goal for the club at Osasuna last weekend.
The first goal of many...
When I saw cover, I started to cry. I was really emotional. In Guinea Conakry, where Ilaix was born, they had a spectacular party after the game. They sent me videos celebrating his goal dancing on the streets. They were so happy and that's a source of huge pride for our family.
How did you celebrate at home?
I was in shock. I couldn't get up! All the kids were running around the room and I was still. It was so crazy that even my nephew started crying at the screaming that was going on in the house!
You didn't expect it...
There are things I never imagined. It was the family's dream. Ilaix has fulfilled it. I will always remember it and I thank him for how he's helping us.
Koeman's not feared putting him in.
I consider Ronald the 'Papa of Ilaix.' You have to be grateful to someone who gives you the chance of a lifetime, as he's done with my son. Not all managers make these gestures. If it wasn't for Koeman, some of these youngsters wouldn't be in the first team.
When it comes to renewing, having a coach that backs the kids is key.
With this dynamic, thanks to Koeman, I am 100 percent thinking of Barça. Why leave? At that age, taking the risk of going to another team when you have a coach that takes a chance on a kid from La Masia in a tough game like the Sevilla one... You have to appreciate that. Hardly anyone does it.
Laporta also loves La Masia.
The president's the most important person at the club. I hope we have luck with him. It helps to have a president that likes La Masia. I remember after Rijkaard he took a chance on Guardiola. Not all presidents do that with the pressure at Barça. It's easier to go for a coach with more experience.
Laporta as president helps to think that Ilaix could stay for many years?
It helps, that's clear. I hope Ilaix never leaves and can be an example for the next generation at La Masia. I want kids who have doubts about staying to see Ilaix and choose to stay. It happened with Messi, Iniesta, Busquets, Xavi, etc.I hope he can always stay at Barça.
Messi has gone from an idol to a teammate setting up goals! How do you manage that?
It's hard to take in. Ilaix has explained ot me that Leo's a spectacular person. To know him well you have to be with him every day. He's a good person. He always tells Ilaix to get into the area. The best in the world jokes with my son! It's the dream of any father and I have no words, I am really grateful for what he's doing.
I heard you didn't watch his debut!?
Yes. When he played I get so nervous that I go onto the street. I can't watch. I suffer a lot. I didn't see the Cornella game. I did see Alaves. I liked his performance but he made a mistake and is cost a goal. I called him to encourage him but also to make sure he realised the demands of being in the first team. An error like that can damage your career.
Then he's given a chance at the Pizjuán.
I was watching. In the moment of most pressure, when Koeman called him, I went to my room. The kids stayed in the lounge. When he set up Messi, I heard the noise but I didn't know what was happening. I saw it afrer when I started to receive a load of messages. I was really happy. I congratulated him.
Do you speak a lot with him on game days?
Yes, before the game I always send a message of support and say we will be praying everything goes well. When it finished, I send another message, I tell him my impressions on his performance. He knows I do everything for him and I loved it when he spoke about me to say thanks on TV.
It's not been easy to make it here.
I will never forget how La Masia has helped me. Separating from your son when he's seven is really hard. It was a tough moment for me. He was the smallest of them all. I sacrificed not being close to my son to prioritise his development. I am really grateful to Barça for how they have helped us.
Early memories?
When we were at Espanyol, Barça made contact with us. My first interview was with Albert Benaiges. We met in a hotel close to the Mini Estadi. He was key, he was the first person that showed confidence in us.
And an early connection with Ansu Fati...
I have a good relationship with Bori, his father. We've known each other since the kids were little. They call each other brothers.