Exclusive Sergio Busquets interview: I think I will be a one club man
The Barcelona midfielder spoke to SPORT after brining up 500 matches for the club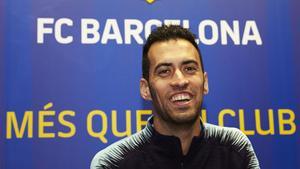 After completing 500 games for Barcelona in the draw with Atletico Madrid, Sergio Busquets spoke exclusviely with Diario Sport.
It all started in the Copa Catalunya, with Rikaard. Memories?
I was still in the U19s and it was a surprise to be called up. But I was really happy. I'd trained with the B team, once or twice with the first team, and I was excited to make my debut, even though it wasn't official, and to play a little in the Copa Catalunya.
You've started 88.7 percent of games since being promoted to the first team, 500 games by the age of 30...
I've had the luck to play a lot of latter stages in competitions, two legged games, and I've made finals. Excpet in the fitst year and a little in the second, I have always played a lot of games. Injuries have respected me and I hope it doesn't stop and I can keep giving a lot more to Barça.
What impact did Guardiola have on you?
A huge one. It's clear that he knew me (from the B team), that he knew how I was as a player, but the impact was huge. He gave me the chance. He had confidence in me. He made me part of the best Barça in history, in a team with great players and I learned a lot to be a better player.
Is his way of seeing football still special?
Yes, I have a special appreciation because of what he's meant for my career, his way of reading games, understand football, giving you the keys, transmitting (his ideas). He's unique.
You said you'd leave Barça for Pep…
I said that I would think about it and it's normal that I have him in mind becaise of his importance on my career.
With a contract until 2023, do you see yourself anywhere but Barça?
I have never seen myself anywhere else. The Guardiola thing I said not because I saw myself anywhere else, but because I should have him in mind, as is normal. I have always said I won't be better off anywhere else. Me and the club are made for each other. I can enjoy being at home, at the best club in the world, with the best players, fighting for titles every year... winning the majority. There's practically nowhere else you can do that.
Would you like to be a 'One Club Man'?
I think I will be. It it true that in current football when players leave the top level in Europe they do have the chance to go to other exotic leagues, a bit different.
Since Messi spoke about winning the Champions League, is that something the dressing room are focused on?
People took what he said to heart and got excited. We have played well in the Champions League in a difficult group, but it's a complicated competition. We have in mind that in recent years we've not done well. When the knockout rounds start against the top teams, if you're not on form, you're out. That's happened to us recently and we have to be prepared because it's something we've lacked in recent years.
What does it mean to be one of the captains since Puyol retired -- and to have his shirt number?
Puyol spoke with me and told that he would be delighted for me to take his number, that there was no one better for it. For me, it was an honour. It was impossible to say no to that. To become one of the captains was a really happy moment as well. You have to take on the responsibility and represent the club in the best way you can.
As captain, you have to deal with situations like Dembele's...
I don't think it's as difficult as it seems from outside. Ousmane's a good kid, young, who'se come from abroad, which means there's an adaption process. He is a great football and we want to help him. He can give us a lot.
How do you see La Masia?
Starting from the base of the luck the club had with the generation of players that came through, it's difficult to repeat that. We have to be aware of that. From there, many factors have an influence: the level of the player, that they find people in the academy ready to manage them well, that they're trusted in the first team, that the first team's needs can be filled by the academy, that Barça B are doing things well and that they're aware what they want... that they're ready when they get a chance. You can't just think that you've made it and you're the new Xavi or Iniesta, Puyol or Valdes. They have to take advantage of chances and have some luck, because being a first team player for Barcelona is difficult.
Oriol Busquets as the Busquets,what do you make of him?
He's good. He had some bad luck with the injury which cut his progress a little, but he's recovered now and got his rhythm back, as he did before. I am sure he will be a very important player. He has the ability to be in the first team, but it's not easy to maintain it and compete. I hope he can. Because as well as being a great player, He's aware of what is needed to make that next step.