Emerson Royal: "I know I'm going to be given minutes"
Emerson Royal (Sao Paulo, 1999) has sat down for an interview with Diario SPORT in which he reveals everything about his first few weeks as a Barça player, how he got where he is today and what he would like to achieve in the future. He came across as confident, self-assured and ambitious when he said "I know I'm going to be given minutes because I'm going to work hard to get them", making it clear that he wants to make a name for himself at Camp Nou. He also stressed how important it is for Barcelona fans to be able to smile again following the closure of the Leo Messi chapter in the club's history.
How have your first few weeks in Barcelona been?
I love it, it's a true pleasure to be here. The city is beautiful and diverse, similar to some cities in my home country. There's a beach and the weather is really hot. I'm very happy with how the first few weeks have went.
What about your first few weeks at the club?
Well, the same. My team mates have helped me lots from the very first day. I'm improving my condition with every training session and getting more used to the Barça style of play, which is a little bit different to how we played at Betis. We move the ball a bit quicker here, but I'm getting used to it quickly and I'm very happy.
How has the dressing room been following the departure of Leo Messi?
It's been great. The dressing room is full of incredible players who are also incredible human beings. They've made me feel right at home straight away. It's been really easy for me to settle in.
You always said that you dreamed of playing alongside Messi, but after all you didn't get the chance...
Yeah, it's a shame. We all wanted to play with the best player in the world, with the best player in Barça's history. It's disappointing, but we have a really competitive team. Now we need to be united and supportive of one another in order to achieve our goals. And of course, we need to work really hard too.
You made your debut on the same day that Messi gave his farewell press conference. What did it feel like when you stepped onto the pitch in the Barça jersey?
It's difficult to put these emotions into words. What you have a dream and it comes true, it's incredible. You need to experience it in order to understand it. I was very happy on the day of the 'Gamper' [vs Juventus]. I want to work hard so that I can play many more matches in this shirt.
When you were at Betis, you stated that your main goal was to end up playing for Barcelona. These comments generated a certain amount of controversy in Seville. Some Betis fans didn't understand your stance, but all of them could see that you are an ambitious player.
Of course. Whenever I was asked about my future, I told the truth. I respected Betis and I worked to help the club, but I couldn't lie [about my ambitions]. I've always wanted to play for Barça, it was my main goal. Other teams showed an interest when my contract was up, but I didn't want to hear about them. I was sure that I wanted to be here, and I'm very happy that I've achieved my goal.
How would you describe Emerson Royal as a player?
Emerson Royal is a player who is physically very strong, who competes hard in every game and who tries to do things properly. He's not afraid of making mistakes and only thinks about doing his job well and improving every day. I'm not a big fan of saying what I want to achieve, and neither do I like making promises. Of course there are some things that I would like to do [in my career] but I don't like to tell people about them, because it's down to me to achieve them. I like to motivate myself and constantly set myself targets in order to improve.
How would you describe him as a person?
He's a happy and joyful person who is always playing jokes on people. Well, I haven't played so many jokes since being here because I don't know all of my team mates well enough yet, but I'm gradually starting to act like myself (laughs).
Who is the biggest joker in the dressing room.
Gerard Piqué and Jordi Alba.
You said in an interview that you don't like boring people, and that your house is always full of laughter. Do you think that FC Barcelona can start to smile again and forget about the difficult last few years? Will you try to infect Barcelona with your personality and outlook on life?
I think life is like this and we need to be happy. You can't be at Barcelona and be sad. Outsiders don't know much about what goes on inside the club. The Barcelona dressing room is full of great personalities, they are very happy people. I will always help in this sense, because I love these kinds of environments. It's important for footballers to smile and to be in a good mood, because that helps to foster a positive environment.
Despite this, your nickname, 'Royal', was given to you because you cried a lot as a child?
(Laughs) Yeah, that's right. My auntie gave me the nickname because of a famous sweet brand in Brazil. She always reminds me that when I was a boy I cried a lot. I didn't like the nickname at first, but then I got used to it. It's normal to cry when you're a young child, although I must admit that even after I'd grown up a bit I still cried too much.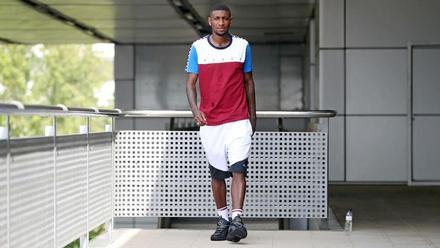 You've gone from being a guaranteed starter at Real Betis to fighting for minutes at Barcelona. How are you finding this change?
It's normal. When you move to a new side, you need to adapt. Betis is a great team, but I've signed for one of the best clubs in the world. It's important to get to know your team mates and strive to improve every day. I know that I'm going to be given minutes because I'm going to work hard to get them. I'm taking my time, I'm not in any rush. I'll work hard in order to play many games for FC Barcelona.
What does Koeman ask from you in the training sessions?
He asks me to improve every day. He asks me to refine my strong points and try to develop my weak points. He also stresses that I need to be myself and focus on what I am good at.
Who are your best friends in the dressing room so far?
Obviously I talk with everyone. There are some great people in the dressing room. I get on really well with Coutinho and Neto, the other Brazilians, and I also have a good relationship with Araujo.
How is your relationship with Sergiño Dest? Barça hope that healthy competition for the starting spot will help you both to improve.
We have a very good relationship. I have no problems with him, and neither does he have any problems with me. He's an incredible person. I talk to him almost every day and we joke around with each other. He's a fantastic player of extraordinary quality.
You are Barça's latest attempt to find the 'next Dani Alves'. While comparisons are never helpful, if you had to choose one of Dani's qualities, which one would you like to have?
The thing I like best about Dani Alves is his character. He is an incredibly competitive individual who wants to win every game he plays. I'm the same. In fact, I think that is why I am where I am today. I want to compete in order to achieve big things, such as winning titles.
What are your objectives for this season, on both a personal and a collective level?
Now, without Messi, we need to start a new cycle. We need to do things right and try to win trophies. On an individual level, I want to play as many minutes as I can for both Barça and for Brazil.
You have clearly developed as a player since you arrived in LaLiga. You are still a very attacking right back, but you have also improved in terms of your defensive actions and tactical awareness. Where do you think you have further room to improve?
At Betis, for example, we played a direct style of play and I had lots of space to run into. Under Rubi, I had the entire right flank to myself and I was given lots of freedom to roam. At Barcelona, I will need to learn how to play in smaller spaces and improve playing out from the back. I still need to get a bit more used to this, but I'm getting there slowly.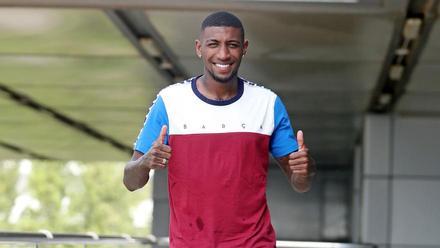 Barça have a very unique style of play.
I like this style. I love having the ball, pressing the opposition as soon as we lose it and running hard. I love this style, and I feel it suits my qualities well. There are very few players who like running after the ball without actually having it.
What did you learn during your spell at Real Betis?
I became very confident. I came from Brazil, from a completely different style of football, and needed to adapt quickly [to LaLiga] because the team were in desperate need of a right back. I needed to learn Spanish quickly in order to understand my team mates and the coach. It was difficult at first, but the experience forced me to grow as a person and as an athlete. Seville is also a great place to life. It's similar to Barcelona, just a bit smaller, but I loved it.
You speak very good Spanish.
(Laughs) Thanks a lot! Now I need to learn some Catalan, which is a lot harder.
Would you say that your 'stop-over' in your flight from Brazil to Barcelona was a positive one?
Of course. I owe Real Betis so much. Part of who I am is thanks to that club. But above all, I would like to say thank you to all the players, coaches and employees who I met during my time there. Everyone was really helpful, and I only have good words to say about them.
There's a photo of you sitting on the pitch with Mandi at the Benito Villamarín after your last game there. What were you talking about?
Our profession is a difficult one. You start with a team and you fall in love with it. You build a family, you meet fantastic people, and all of this makes it difficult to leave. We were saying that we were leaving with our head held high. We did things properly and gave a good account of ourselves. However, after all, it was simply time for both of us to move on.