Dembele ready to 'rock and roll' in Barcelona derby vs. Espanyol
These 10 days since the Osasuna win have done the winger the world of good
With the team at a standstill and crying out for something different, a differential factor, Xavi Hernández called on Ousmane Dembélé for more than 40 minutes against Osasuna. He had reappeared for a short spell against Real Betis a few days earlier, but in a much more placid context with the Andalusian side losing by a landslide and with one less player.
Meanwhile, we are entering decisive weeks (perhaps months) to address his renewal. The first formal contact has been made between the club and Dembélé's camp.
With the logical lack of competitive rhythm and that change of pace he has, Dembélé left flashes. And he showed that he was ready to take on a bigger load and role again moving forwards. These more than 10 days that have passed between Osasuna and Espanyol have been perfect for the Frenchman. To finish tuning in that explosiveness that characterises him and to continue strengthening his muscles.
Time to prepare
In his off days, he has continued to work on his own and in this week's sessions, with prolonged maximum-intensity exercises, he has taken the opportunity to continue fine-tuning the nuts and bolts. The objective of the player and the staff is that he arrives at this final 'rush' at 100%. And, in fact, it is quite likely that we will see him in the starting line-up on Sunday in Cornellà-El Prat.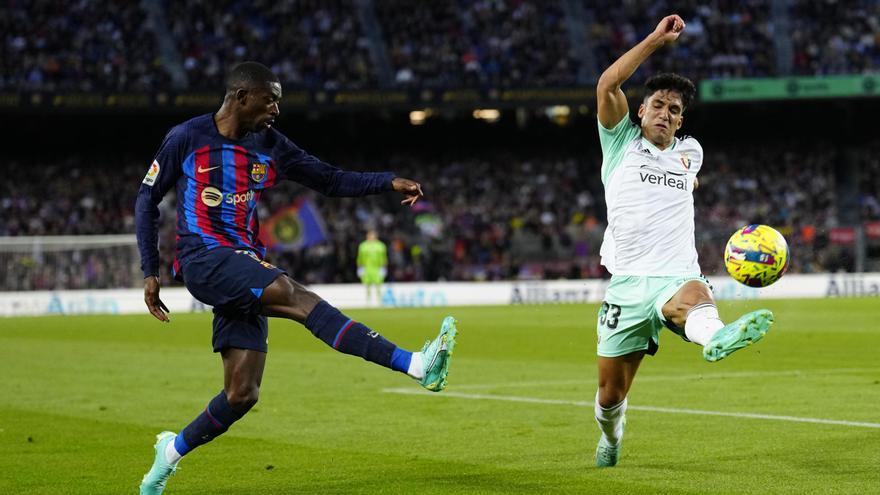 As we mentioned, the 40 minutes the other day were a good indication of the needs and the state of Ousmane. Xavi is aware that his ingenuity and unpredictability give Barça another air. Lewandowski appreciates it, Pedri appreciates it, Frenkie appreciates it. Even more so in games like the one mentioned against the Pamplona side in which there was no way of piercing the opposition's defensive framework.
Derbies
Dembélé is probably not ready to complete the full 90', but the player from Évreux is more than ready to start the game at Cornellà. The former Borussia Dortmund man has only played in four derbies against Espanyol.
For various reasons, over the course of his five seasons at the club, he has missed quite a few meetings with the regional rivals. Two wins, two draws and one goal scored (in the 0-4 win at Cornellà in 2018/19).