Deal with Manchester City working against Denis Suarez
A clause could be the reason he's disappeared this year
Barça don't want to have to pay City for every 10 appearances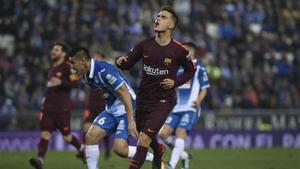 He's the forgotten man in 2018. Denis Suarez has only played two Copa del Rey games and one minute in La Liga in the New Year when previously he had played more regularly. The player's behaviour has not changed in this time. He's still working hard, getting on with his team-mates and has never complained. However, he has disappeared from the team and the matchday squads -- absences which benefit the club.
Barça have to pay 800,000 euros every 10 games he plays due to the agreement with Manchester City. Denis has played 54 times for the first team and in 31 of them a minimum of 45 minutes, a condition which is demanded in the majority of contracts of this type. Every bill which arrives from the Etihad Stadium is met with a sigh in the Camp Nou offices, but there's nothing they can do but comply with the agreement. Denis has seen his progress blocked and the club are now saving on having to pay the English club more money.
His absence is particularly surprising when you consider that in January there was confirmation from the club that he still counts for Ernesto Valverde. For that reason, they didn't listen to offers for him. And now he's gone 12 matches without playing a single minute.