Dani Olmo: "I won't rule out joining anyone. I'm not worried."
The in-demand Spaniard is weighing up his options as he prepares to leave Dinamo Zagreb this summer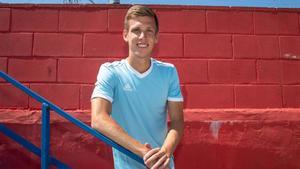 Dani Olmo is spending a few days back home with his friends and family as he continues to think about what his next move will be. He wants to join a major team with an important project. Olmo wants to be viewed as an important member of the squad and preferably play in next season's Champions League. His agent has promised him those options are available to him, but outside of Spain, whereas Atletico Madrid could make a late bid for the winger.
Bayern Munich is one of the main options on the table but also Premier League giants Manchester United and Tottenham Hotspur. There's interest too from Italy so a decision won't be easy to make.
An interesting summer awaits.
It's only just begun. I arrived home after a short break and I still haven't spoken to my agents or my father. I'm expected back at Dinamo next week so we'll see what happens.
How many nights have you spent thinking about your future?
None.
How does it feel to know some of the biggest teams in Europe are trying to sign you?
You have to remain calm and keep your feet on the ground. There's still a long way to go and I have to keep working hard.
You've had offers from Bayern, Manchester United, PSG, Atlético, Tottenham... that's quite the list!
There's talk about a lot of teams and many more rumours. I don't know what is true and what isn't. I've wanted to disconnect from everything and when I have the chance to speak with my agent, we'll see.
Atlético? I've always said that I wanted to return to Spain, it would be nice, but we'll see
Atlético look like they'll push hard for you.
I've always said that I wanted to return to Spain, it would be nice, but we'll see what happens.
What role do you thinking being named as Spain's MVP had in generating an offer from Atletico?
It was a great Euro campaign on a collective level but everyone has played really well. On a personal level too. I'm very happy with what I did for the team and I think it's a sign of what's to come in a great season.
You've always said that you'd like to return to Barça one day.
I don't know if there's an offer from them or not. As I told you, I've been on holiday and have no idea what's happening.
So you don't rule it out?
I'm not ruling out any team. Out of respect to everyone who is interested in me, I'm not going to say anything. You have to respect them all.
I'm looking for a sporting project which is ready now
At your age, is it important they guarantee you'll play?
Yes, what we're looking for is a sporting project which is ready. Similar to what Dinamo offers because, right now, what I need to do is play. I'm young and I think I could give a lot more now and in the future.
Barça don't have an overload of wingers either.
No, where I go need to give the best options for me to play. I'm not worried because whether I go, I'll give my best.
You'd like to return to Spain but you wouldn't have a problem going abroad again?
I've spent five of my life living abroad. If it's a few more years, I'm not bothered.
I've worked so hard to get here, but I still have a lot to do
When you decided to go to Croatia, was the objective to arrive at a moment such as this one?
Yes, that was always the idea I had in mind. To reach this moment because I've worked so hard to get here. But I've still go so much more to do.
When do you think you'll announce your next team?
I don't know. My agents have told the children at the training centre that in the next 20 days we'll know, so...
In 2020 there's the Euros and the Olympic Games. New challenges for you?
Yes, that would be the dream. But it's going to be difficult to make the squad because there are a lot of great players. Of course, to play in the Euros and the Olympic Games with your country would be fantastic. But for that I need to work hard this year to force my way into those plans.